CNN Political Briefing – Podcast on CNN Audio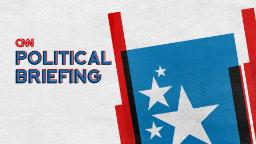 Biden Knows "People are Really Down"
CNN Political Briefing
President Joe Biden did a rare interview with the Associated Press in the Oval Office where he got candid about the mood of America. CNN's David Chalian explains what Biden had to say about inflation, gas prices, and the possibility of a recession. Biden also said he doesn't regret the US involvement with Ukraine, despite its effect on American households.
Jun 17, 2022
Pence Chose Democracy Over Trump
CNN Political Briefing
Today was the January 6 House Select Committee's third televised hearing. Through witnesses close to former Vice President Mike Pence, it became clear that Pence never believed he had the power to overturn the 2020 election. CNN Political Director David Chalian explains how former president Donald Trump disregarded Pence and tried to pressure his Vice President into doing it anyway. You'll hear sound from some key testimonies.
Jun 16, 2022
Winners & Losers of Last Night's Elections
CNN Political Briefing
Voters in five states have spoken – CNN Political Director David Chalian breaks down the key takeaways in primary elections from South Carolina to Nevada. It ended up being a pretty good night for former President Donald Trump's candidates, even in a race where he endorsed the losing candidate. Plus, the Democratic majority in the House just got a bit smaller, thanks to a special election in Texas.
Jun 15, 2022
Biden Tries to Reassure Nation About Inflation
CNN Political Briefing
With inflation rising, stocks falling, and recession fears growing, President Joe Biden tried to look on the bright side today while recognizing Americans' price pains. CNN Political Director explains how Biden can blame Russia's war in Ukraine all he wants – but the squeeze families are feeling in their wallets is still happening under his watch. Will voters see it the same way in November?
Jun 14, 2022
Jan. 6 Hearing Focused on 'The Big Lie'
CNN Political Briefing
Many people close to former President Donald Trump told him he lost the 2020 election, but he didn't listen to them. That was the focus of the January 6 House select committee's second hearing today, as CNN Political Director David Chalian explains. You'll hear testimony from former Trump campaign aides, former Attorney General Bill Barr and others about what went down after Trump found out he lost.
Jun 13, 2022
Trump "Lit the Flame" for Jan. 6
CNN Political Briefing
Last night, the January 6 House select committee gave an overview of their findings so far in their first of many public hearings to come. CNN Political Director David Chalian breaks down the bombshells that came out of it, and what he thinks are the goals for these hearings. Plus, the former President has responded to what his own daughter brought up in her testimony.
Jun 10, 2022
January 6th Panel's Primetime Moment
CNN Political Briefing
The January 6th House select committee holds its first public hearing tonight after spending 10 months investigating. CNN Political Director David Chalian breaks down what to expect tonight and from hearings to come. Meanwhile, some Republicans close to former President Donald Trump are slamming the hearings before they've even started.
Jun 9, 2022
Trauma from Mass Shootings Detailed in DC
CNN Political Briefing
In the wake of two mass shootings at a school in Texas and a grocery store in upstate New York, those directly affected shared their tragic stories and called for legislative action to a House committee. You'll hear several heartbreaking testimonies today, as CNN Political Director David Chalian explains the progress made so far by lawmakers on potential gun reform. Some of what you'll hear is graphic – please listen with discretion and care.
Jun 8, 2022
Why Both Parties Are Closely Watching CA
CNN Political Briefing
It's primary day in seven states today and both political parties will be closely watching the elections in California. CNN Political Director David Chalian explains why two local races in the Sunshine state will provide critical feedback about how to run campaigns for November and beyond.
Jun 7, 2022
Jan. 6 Hearings Coming to Primetime
CNN Political Briefing
This is a big week for the January 6th House select committee and former President Donald Trump is gearing up some GOP allies to go on the attack. CNN Political Director David Chalian shares what some committee members are previewing before Thursday's primetime hearing and what viewers should expect. Will the committee succeed at capturing America's attention?
Jun 6, 2022